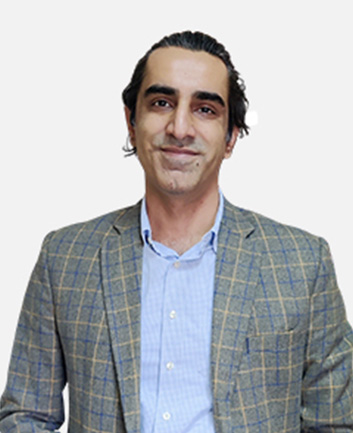 VP, Marketing & Business Development
Karan Checker, heads marketing and business development at Drish Infotech Ltd. He has a Masters in Business Administration (MBA) from Babson College in Boston, MA. He also has a Software Engineering degree from Punjab Engineering College (PEC) in Chandigarh, India. He has over 15 years of experience in Software Development, Product Development, Marketing and Sales. In the past, he has been a Director at SNA Power Engineering Pvt Ltd where he managed IT, Datacenter, Power, SmartCity and Software services solutions in North India for brands like Vertiv, HP, Lenovo, HPE, IBM, TATA and Panasonic. He has also actively been part of the startup ecosystem both as an entrepreneur and as an investor with investments in healthcare, retail, ecommerce, robotics, 3d printing, Augmented and Virtual Reality AR/VR, gaming – Spurr Proximity, Sidekick Healthcare, rot8co, Do Tools & 172 Games.
Karan is a Charter Member of TIE Chandigarh and has served on the Governing Council and Executive Committee for the proliferation of Entrepreneurial spirit in the region. He has been an active RoundTabler from 2016-18 where he participated in various social welfare projects like "Future Through Education", health checkup camps & blood donation camps. He serves on the board of Tulips World School Sector 7, Panchkula and also CCI College for Women Sector 11, Chandigarh where he devotes time to improvement of the educational process.